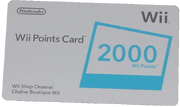 A Wii Points Card is used to buy Wii Points ,Virtual Console games, and WiiWare games when a credit card cannot be used, or if somebody simply does not want to use their credit card, if they have one. They can be bought at most electronics stores like Best Buy, Gamestop, etc. They come in a variety of prices, and the more expensive it is, the more Wii Points it will give you.
For example, 1000 points will cost $10, 2000 points cost $20 (most common found in retail stores), 5000 points cost $50. Wii points can also be purchased online at the Wii store channel by using a credit card.
When the Nintendo DSi is released in 2009, the Wii Points Card was changed to the Nintendo Points Card to accommodate both the Wii Shop channel on the Wii and the DSiWare Shop channel for the Nintendo DSi.