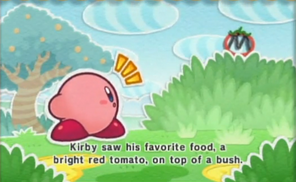 The Metamato is an item in 
Kirby's Epic Yarn
. It is a type of Food, however, it cannot be eaten during gameplay and only appears in the beginning cutscene of Kirby's Epic Yarn. The Metamato is a red yarn tomato with a green leaf top and a black "M" in the middle, highly resembling a 
Maxim Tomato
.
Kirby
sees the Metamato and, thinking it is a Maxim Tomato, eats it. However, when he ate it, it turns out that the Metamato belongs to 
Yin-Yarn
, a sorcerer who is later the main antagonist of the game. Angrily, Yin-Yarn transforms Kirby into yarn and sent him into 
Patch Land
. In the new world, Kirby saw a 
blue boy
 being chased by a 
monster
. Kirby tried to 
Inhale
 the monster, however, he has lost his ability to Inhale. Eventually, Kirby transforms into a 
Car
 and saves the prince. After this whole cutscene, the Metamato is never seen again the game. 
Community content is available under
CC-BY-SA
unless otherwise noted.