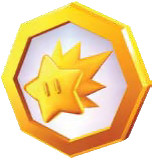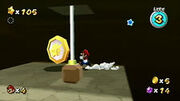 Comet Medals are items in 
Super Mario Galaxy 2
. They are white octagonal coins with a golden lining and a picture of a golden star comet on them. They are found in the first mission of every galaxy and are usually in hard-to-reach places or dangerous areas. Power-ups are sometimes needed to collect them. Collecting enough Comet Medals will cause a 
Prankster Comet
 to appear, similar to the Prankster Comets in the 
prequel
. Once they are collected and the player replays the mission it was found in, the Comet Medal will be a clear blue silhoutte. It can still be collected. It will be temporarily added to the total but as soon as the level is complete, it reverts back to the previous value. There are a total of 49 Comet Medals in the game, however, not all galaxies will encounter a Prankster Comet after its Comet Medal has been collected. 
Appearances and Locations
Community content is available under
CC-BY-SA
unless otherwise noted.