The Amp (also known as Electro-Chomp) is an enemy in Super Mario Galaxy, New Super Mario Bros. Wii, Super Mario Galaxy 2 and Mario Party 8. They are a small sub-species of Chain Chomps with faces that usually have two closed eyes and a smiling mouth.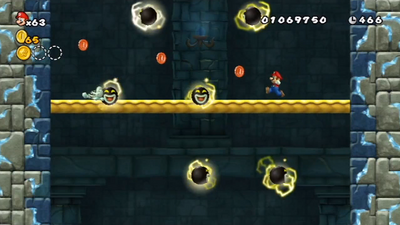 In New Super Mario Bros Wii, they have eyes. Pieces of electricity circles around them. Amps don't really move. They usually circle in place. Amps can be found in World 3's Fortress . They can be defeated by freezing them with the Ice Flower's/Penguin Suit's powers and Ground Pounding the Ice Block they are trapped in, by touching them while under the effects of the Starman or by throwing a frozen enemy in its Ice Block at them, however, if Mario (or Luigi, Blue Toad, Yellow Toad) touches an Amp, they will lose a form or die at small form. In Super Mario Galaxy they are found in the Buoy Base Galaxy, the Battlerock Galaxy, and Dreadnought Galaxy. They have the same two closed eyes and a smiling mouth, however their eyes and mouth are red instead of yellow. They are mobile in this game, and they usually move in circles. There are also Amps that are large, faceless orbs. They still move and behave like the Amps with faces in the game. Amps cannot be defeated. In Super Mario Galaxy 2, Amps reappear behaving the same as in the prequel. They have their same appearance from Super Mario Galaxy. They can now be defeated, however, they can only be defeated by touching them while under the effects of the Rainbow Star. These enemies appear in the Sky Station Galaxy, Spin-Dig Galaxy and the Space Storm Galaxy. In both Super Mario Galaxy and its prequel, if Mario/Luigi touches an Amp, they will lose one wedge of health from their Health Meter, as well as be electrocuted. In Mario Party 8, an Amp appears in the mini-game, Spector Inspector, where they are one of the enemies that needed to be found. It is under a cover on the table.
Gallery
Trivia
Their name comes from the word "ampere", which is often shortened to "amp". Amperes are the standard unit of measurement for the speed of electrical currents.